VC Series
Packer
High speed small pouch packer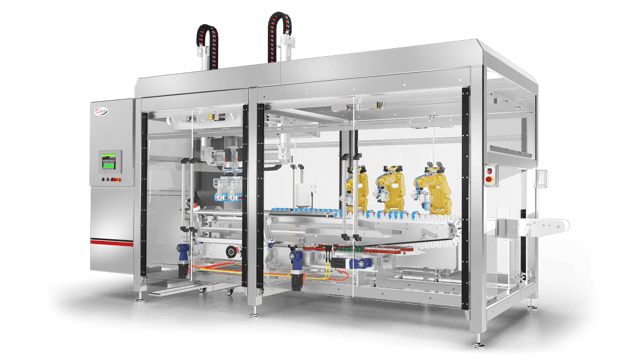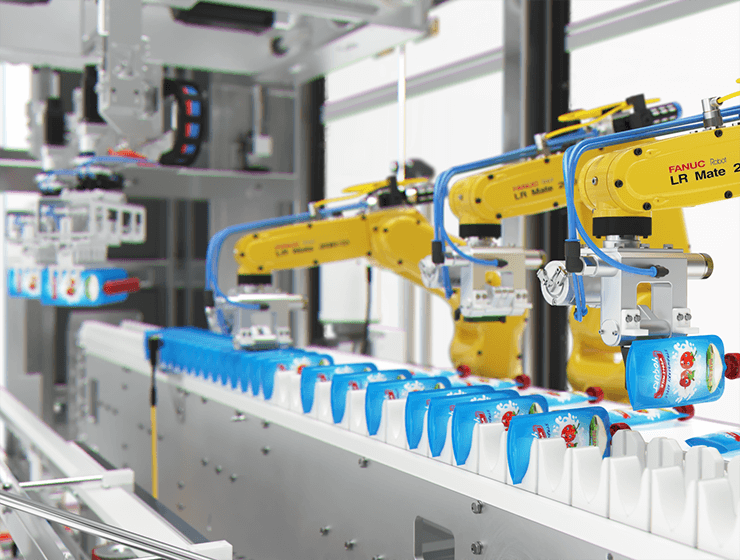 Continuous Motion Top Loading
Delkor's linear-servo technology allows for efficient, continuous-motion top-loading of spouted pouches into cartons and cases.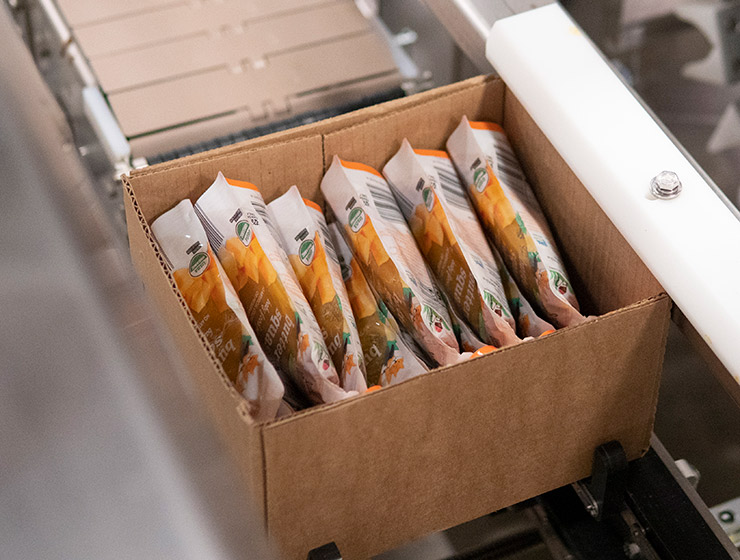 Pack On-Edge or Lay-Flat
The VC Series Packer has maximum versatility with its ability to be configured to pack spouted pouches on-edge or lay-flat pack-out with just a simple tool-less changeover.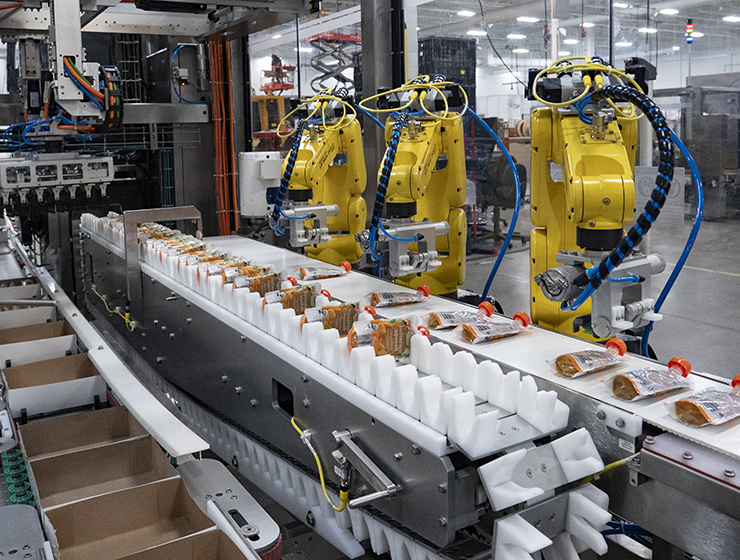 Pack in Any Infeed Orientation
As a Level 5 FANUC Integrator, we've designed the VC Series Packer to be able to pack spouted pouches laying in different orientations on the infeed belt at efficient, high-speeds using FANUC iRVision technology.
Key Features
High speed small pouch packer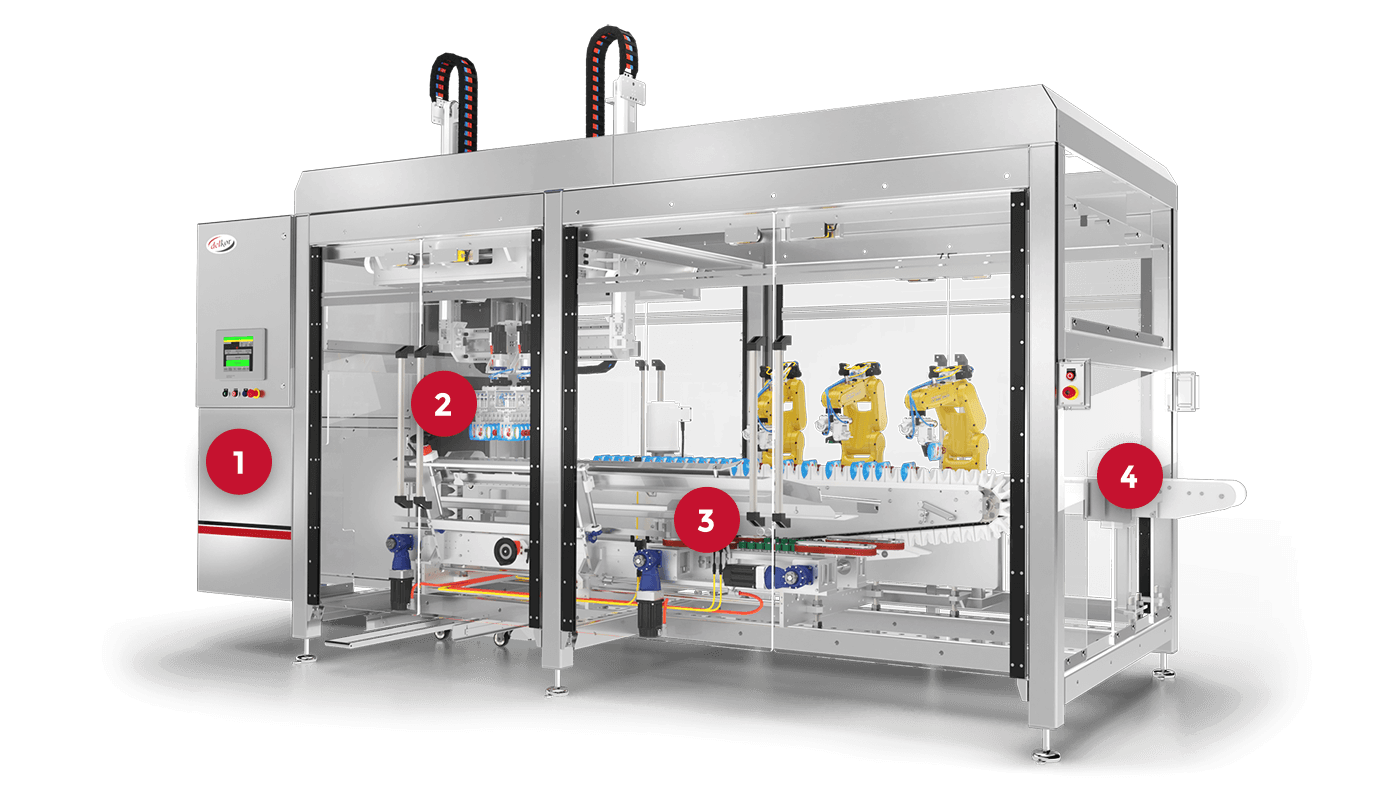 1
High Speed
Up to 250 pouches per minute on this system
2
On Edge or Flat
Load product however you prefer
3
Multiple Package Formats
Load cartons, cases, and trays with this system
4
Any Orientation
Pack skewed products from any orientation with vision based technology
Specs
250 Primary Products
Max Speed Per Minute
Loading Options
Load on edge or flat
Package Types
Cases, Trays, and Cartons
Package Styles
Cases, Trays, and Cartons
Max Product Rate
250 Products
Max Package Rate
30 Packages per minute
Discharge Orientation
Inline, Counterflow
Machine Hand
Right Hand, Left Hand
Frame Materials
Painted Carbon Steel, Stainless Steel
Robot Models
Fanuc LRMate
Servo-Motors
Allen-Bradley VPL or VPF (food grade)
System PLC
Allen-Bradley Compact Logix
System HMI
Allen-Bradley Panelview Plus 7 10"
Safety System
Category III
Enclosure - Main Panel
Painted (NEMA 4), Stainless Steel (NEMA 4X)
Enclosure - Panel Cooling
Vortex, Heat Exchanger, or Air-Conditioner
Enclosure - FANUC Cabinet
NEMA 1, optional Stainless Enclosure (NEMA 4X)
Enclosure - Camera
optional Stainless Steel (NEMA 4) with Air Blast
Utilities - Power
480 VAC, 50-60Hz, 100 Amps
Utilities - Air
20 SCFM @ 80 PSIG
Status Glow
Bright Internal LED Status Lights
Additional Feature
Tool Less Changeover
Additional Feature
Reject Bin Option
See it in action
Delkor's VC Series Packer is built for packing groups of pouches into cartons and cases at speeds up to 250 products per minute. Pack pouches on-edge or lay-flat pack-out with a simple tool-less changeover.
Delkor can work with you to design the case, and they have the capability to provide you samples of the case with graphics on. It's like having a material company and a packaging systems company in one building.
Wilberto Torrez-Ortiz, Packbrain
Free package samples in 48 hours!
Our in-house CAD table and full-time packaging engineer enable us turn around printed case samples within 48 hours! These samples can be branded and tailored to meet the requirements of your marketing department and packaging engineers.
Similar Case Packing Equipment
Every project calls for something different - Delkor has the widest range of case packing equipment that can match any packaging need.
Contact Us
Get in touch with us for more information or to start the process