LSP Series
Case Packer
A Single Top Load Case Packer for ANY Shipper Style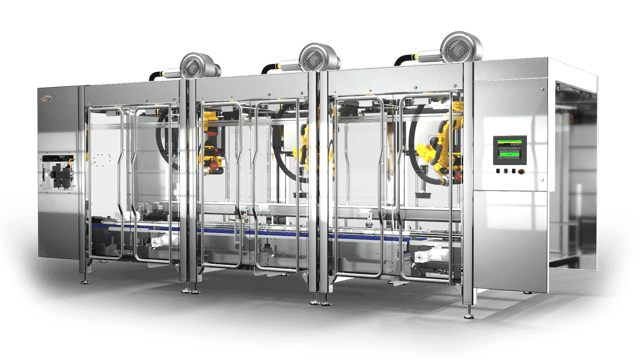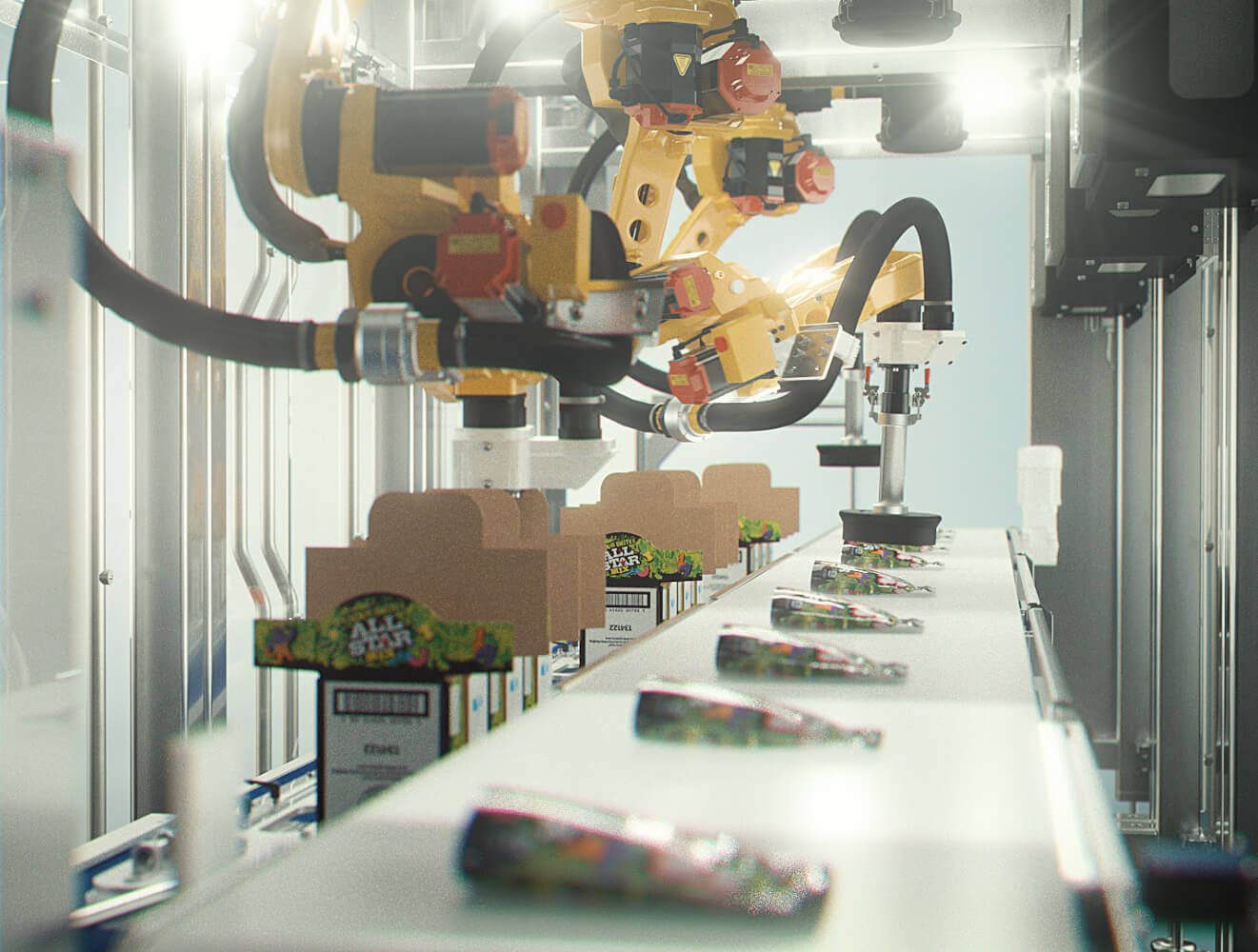 load large bags
The LSP Series Case Packer can pack pouches and large bags into deep cases at speeds up to 180 products per minute. This newly developed loader can place a variety of pouches into multiple types of cases seamlessly.
Key Features
What makes the LSP Series Case Packer Delkor's most popular solution for bags and pouches?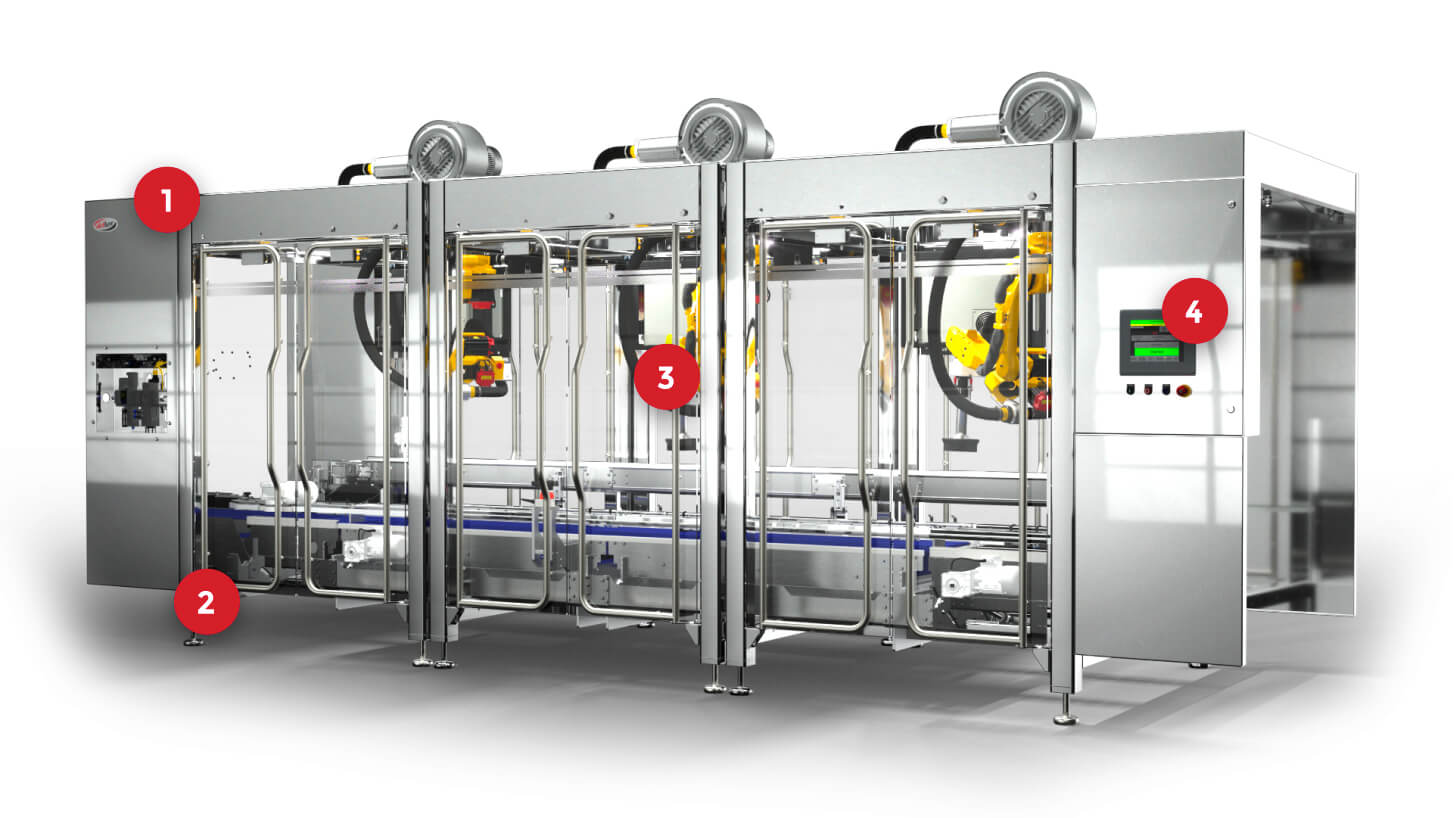 1
Modular Design
Available in 1, 2, 3, 4, or 5 robot options to meet any speed requirement.
2
Simple Tool-Less Changeover
Performs a full line changeover in 8 minutes or less.
3
Packs Heavy Pouches
Large bags and pouches are no problem with the heavy duty central vacuum system
4
Cabrio Case Compatible
Delkor's Cabrio Case® is free to use with purchase of Delkor's case packing equipment.
See it in action
Delkor's LSP Series Case Packer runs pouches or bags (up to 20 lbs) at speeds up to 180 per minute with dual pick heads. Compatibility meets efficiency, as the Fanuc M10 robots work together to pick pouches in any orientation on the infeed conveyor.
Specs
8 Min
Full Line Change Over
20 lbs
Max Weight Capacity
180 Products
Speed Per Minute
Package Types
Cases, Trays, and RRP
Key Feature
Packs Deep Cases
Key Feature
Packs Heavy Products
Key Feature
Simple Tool-Less Changeover
Key Feature
No Collation Chains or Buckets
Layout
Right Hand/Left Hand Counter Flow or Through-Flow
Robot Models
Fanuc M10iA-10ms
Robot Mount Types
Frame Mount Inverted
Robot Pick Method
Vision Pick and Place
Vacuum
Busch Central Vacuum Blowers (2)
System PLC
Allen-Bradley Control Logix
System HMI
Allen-Bradley Panelview 700 or 1000
Safety System
Category II or III
Enclosure - Main Panel
NEMA 12 (Painted), NEMA 4, or NEMA 4X(SS)
Enclosure - FANUC Cabinet
NEMA 12 (Painted), NEMA 4, or NEMA 4X(SS)
Enclosure - Camera
NEMA 12 (Painted), NEMA 4(SS) With Air Blast
Enclosure - Panel Cooling
Vortex, Heat Exchanger or Air Conditioner
Utilities - Power
480v 60hz 3ph
Utilities - Air
20 SCFM @ 80PSIG
Dimensions - Weight
9,000 lb (4082 kg)
Dimensions - Length
15'0" (4,570 mm) including guarding
Dimensions - Width
6'4" (1,930 mm)
Dimensions - Height
8'0" (2,440 mm)
Options - Frame
Stainless Steel or Powdercoated Carbon Steel
Options - Reject Bins
Stainless Steel Bins On Casters
Options - Mispick Detection
Operator Notification For Mispicks
Status Glow
Entire Machine Has Status Illumination
Delkor can work with you to design the case, and they have the capability to provide you samples of the case with graphics on. It's like having a material company and a packaging systems company in one building.
Wilberto Torrez-Ortiz, Packbrain
Free package samples in 48 hours!
Our in-house CAD table and full-time packaging engineer enable us turn around printed case samples within 48 hours! These samples can be branded and tailored to meet the requirements of your marketing department and packaging engineers.
Similar Case Packing Equipment
Every project calls for something different - Delkor has a wide range of case packing equipment that can fulfill most secondary packaging needs!
Contact Us
Get in touch with us for more information or to start the process