LSP Series
Case Packer for Coffee
Maximize case space for product that shifts or expands while loading.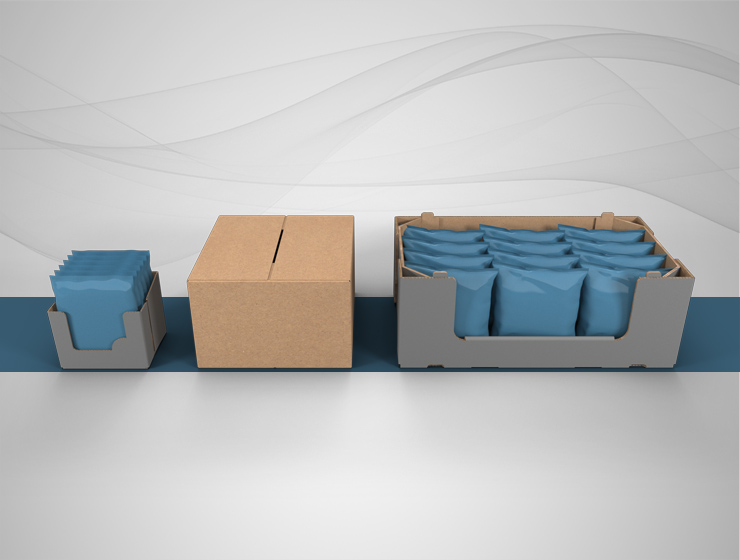 ANY SHIPPER STYLE
Pack coffee into cases, trays, and retail ready packages of nearly any variety! Adjustable, quick-change tooling make changeovers a snap.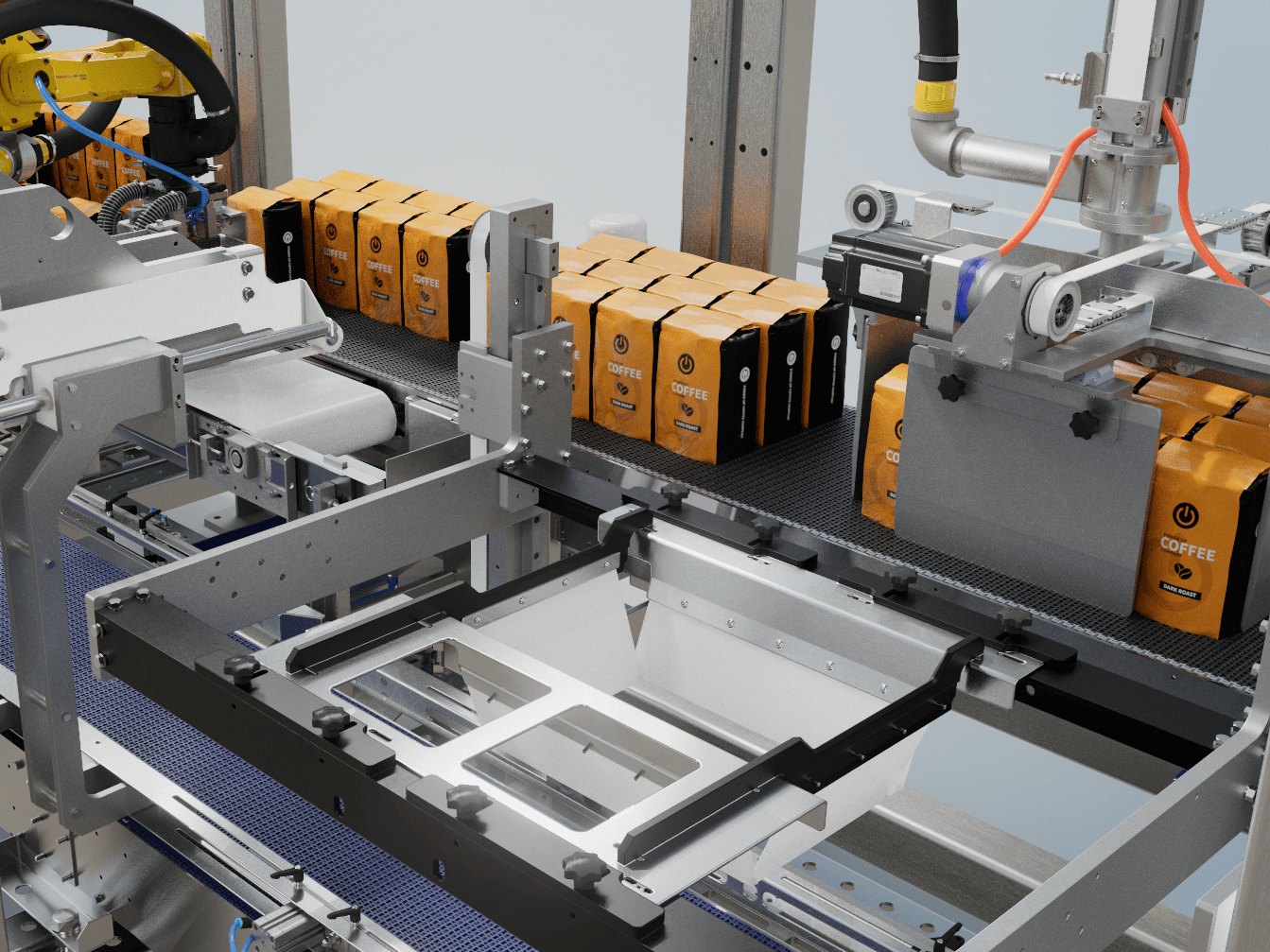 Load in Bulk
This machine places product into the shipping case all at once, so as to maximize space. By avoiding product shifting, the LSP Series Case Packer for Coffee is able to fit more coffee into smaller packages, saving space during shipping.
Key Features
The LSP Series Case Packer for Coffee is built to maximize usable case loading space.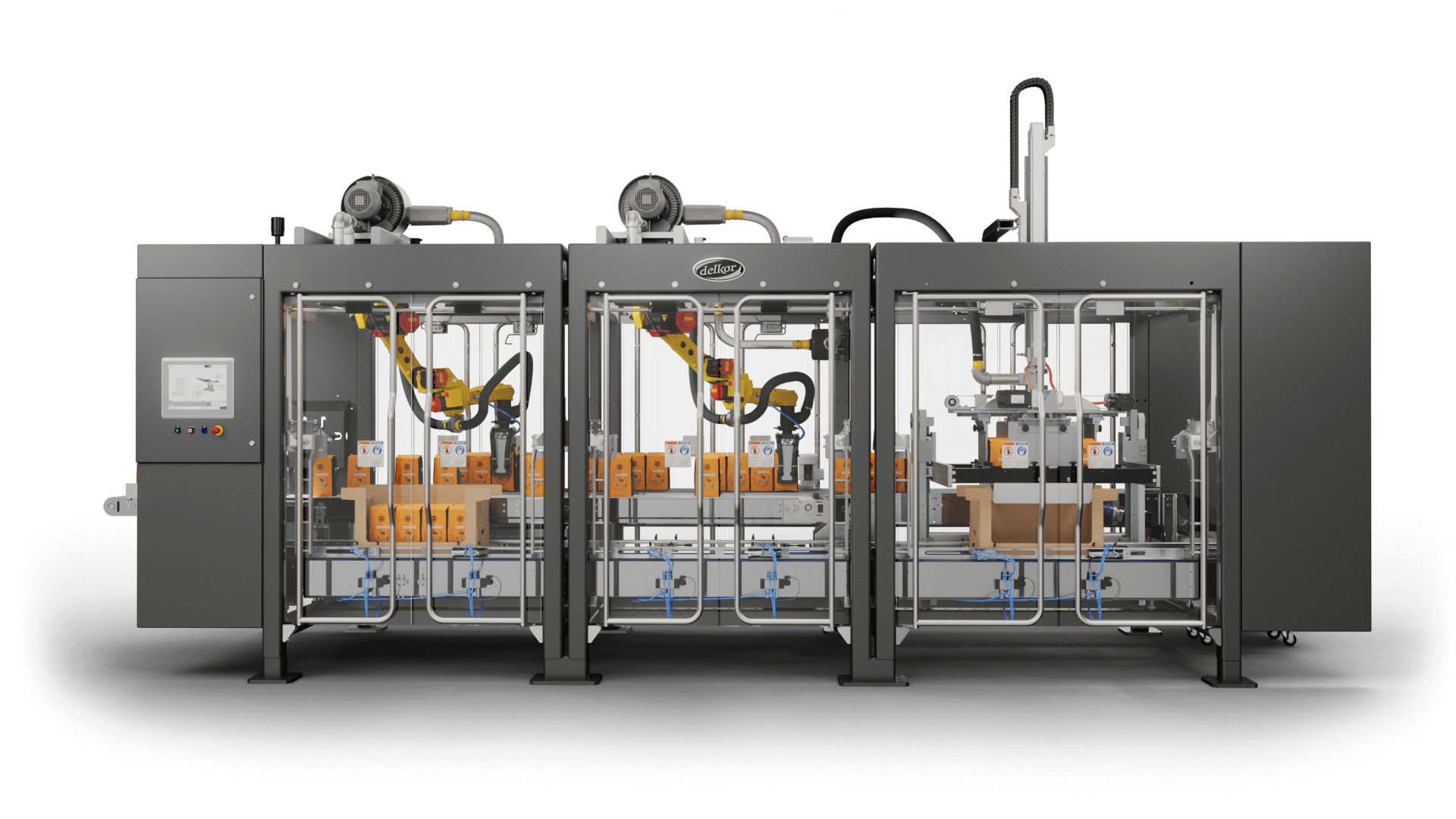 1
Run Any Case Format
Wide size range able to be run on this machine ensuring your line is future proofed if new formats need to be run
2
Quick Changeover
Switch between standard brown box shippers and club store trays in minutes
3
Compact Footprint
Designed to save space. Eliminates need for clunky laning solutions
4
Operator Friendly Design
Wide see through doors, lightweight tooling, and status glow lighting are just a few of the ways we've improved the operator's experience
Specs
50 Cycles Per Min
Max Rate
Package Types
Cases, Trays, and RRP
Key Feature
Packs Deep Cases
Key Feature
Compact Footprint
Key Feature
Simple Tool-Less Changeover
Key Feature
No Collation Chains or Buckets
Layout
Right Hand/Left Hand Counter Flow or Through-Flow
Robot Models
FANUC M10iA-10ms
Robot Mount Types
Frame Mount Inverted
Robot Pick Method
Vision Pick and Place
Vacuum
Busch Central Vacuum Blowers (2)
System PLC
Allen-Bradley Control Logix
System HMI
Allen-Bradley Panelview 700 or 1000
Safety System
Category II or III
Enclosure - Main Panel
NEMA 12 (Painted), NEMA 4, or NEMA 4X(SS)
Cabinet
NEMA 12 (Painted), NEMA 4, or NEMA 4X(SS)
Enclosure - Camera
NEMA 12 (Painted), NEMA 4(SS) With Air Blast
Enclosure - Panel Cooling
Vortex, Heat Exchanger or Air Conditioner
Utilities - Power
480v 60hz 3ph
Utilities - Air
20 SCFM @ 80PSIG
Dimensions - Weight
9,000 lb (4082 kg)
Dimensions - Length
15'0" (4,570 mm) including guarding
Dimensions - Height
8'0" (2,440 mm)
Options - Frame
Stainless Steel or Powdercoated Carbon Steel
Options - Reject Bins
Stainless Steel Bins On Casters
Options - Mispick Detection
Operator Notification For Mispicks
Status Glow
Entire Machine Has Status Illumination
See it in action
Watch the LSP Series Case Packer for Coffee load bags in bulk. These dual FANUC robots work together in unison to group product into clusters that are clasped together and loaded simultaneously into cases or trays.
When we arrived for the acceptance testing, the equipment was ready to roll, hit our efficiency metrics, was shipped, delivered, and was ready to run even before the line was fully commissioned.
-Matt Brody, Nature's Bakery
Free package samples in 48 hours!
Our in-house CAD table and full-time packaging engineer enable us turn around printed case samples within 48 hours! These samples can be branded and tailored to meet the requirements of your marketing department and packaging engineers.
Contact Us
Get in touch with us for more information or to start the process